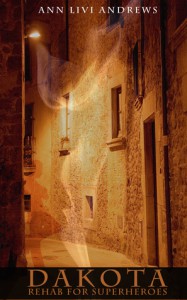 Dakota is the latest offering by Ann Livi Andrews, in the Rehab for Superheroes line of books. With this entry, I'm starting to think this series would do really well as a television show, ala Arrow or Agents of Shield. I would recommend that fans of either show pick up this piece, as they will find lots to love.
I generally don't do much in the way of synopses, so all I'll say is this: Dakota provides one hell of a backstory to the character of the same name. This story starts off in a way that may leave first-time readers of the series a little lost, given the number of characters in play. However, those who have previously read entries will find their way quickly.There were some minor issues with word choice or grammar, but these were forgettable.
The real meat of the story picks up with an intriguing and altogether eerie story set in the early 1940s, at the Crowley Institute ~ a psychiatric hospital that seems like equal parts Arkham Asylum and Hellboy's BPRD. Dakota is forced to participate in a series of creepy resurrection experiments in order to test his limits. The characters in this stage of the story are interesting and the reader is placed in Dakota's shoes as he attempts to navigate this harrowing experience and survive.
Livi's skills as a storyteller offer some indelible imagery, on par with her work in Em and imbues the piece with its own unique flavour. The Crowley scenes were done so well, I was disappointed when they were over as I wanted more in the Institute. I have to say my eyes nearly fell out of my head at the climax of the story and the images conjured were certainly a treat. I loved how Dakota evolved and his powers were described with a visual flair that made me smile.
The story had me hooked at the end and I can't wait for more. If this was on Netflix, I'd be jumping to the next episode. Superhero fans, your series is here.